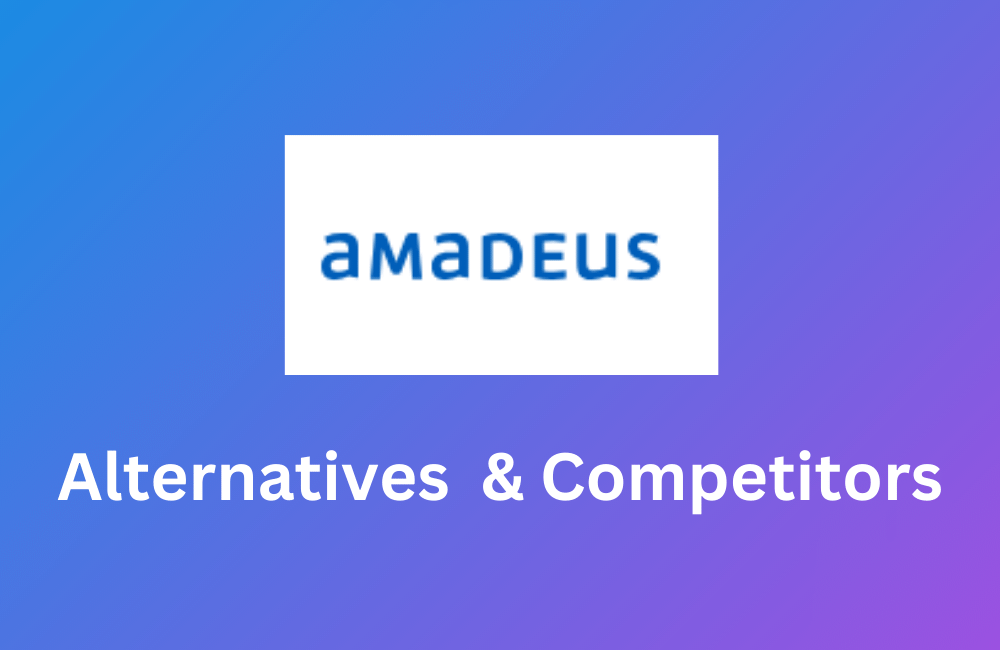 So, you've been relying on Amadeus and know its ins and outs, but there's that nagging curiosity:
Are there alternatives that might better suit your needs or perhaps offer better value than Amadeus?
Yes, there are!

After thorough research, we've curated a list of the top 5 Amadeus alternatives that will be a perfect fit for your needs.

So, before we move ahead, let's check out the products & services Amadeus provides.
What Does Amadeus offer?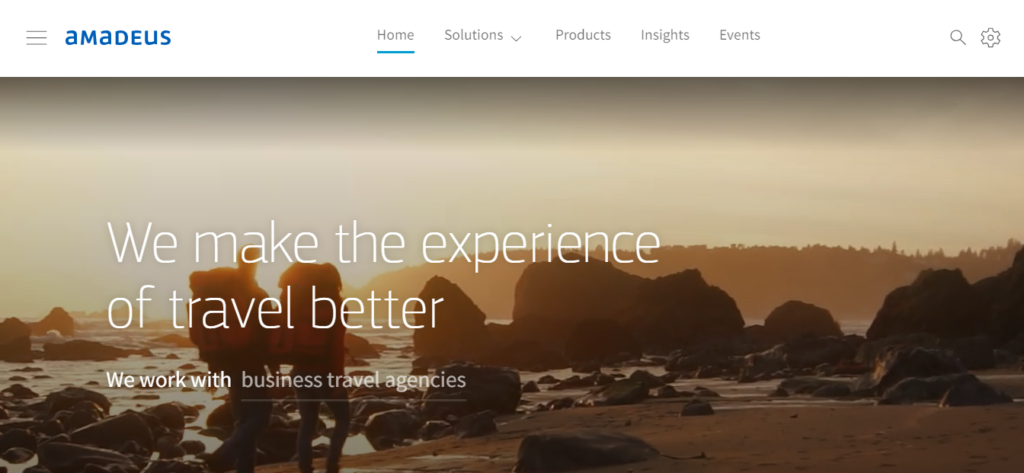 Amadeus is a global leader in travel technology that provides comprehensive solutions tailored to various sectors of the travel industry.

Here are the key features include:
GDS Platform: Amadeus offers a global distribution platform to travel agencies to access real-time inventories of flights, hotels, car rentals, and more.
Booking & Fulfillment: Offers platforms like Amadeus Selling Platform Connect for seamless booking and management.
Travel Management Tools: Amadeus also offers services like CheckMyTrip for travellers to manage and view their itineraries.
New Distribution Capability (NDC): This is an Amadeus initiative that enhances communication between airlines and agents.
APIs: Amadeus also provides a suite of solutions for developers that facilitate integration into applications, including search, booking, and travel intelligence functionalities.
So, now you're familiar with the range of products offered by Amadeus, it's now an opportune moment to explore the viable alternatives available for these offerings.
5 Amadeus Alternatives: Their Offerings & Comparisons
1. MakCorps

Offerings:
MakCorps specializes in real-time and historical hotel price comparison API. These APIs allow businesses to track, compare, and analyze hotel rates from 200+ online travel agencies. MakCorps API is designed to help travel tech companies, hotels, online travel agencies, and tour operators monitor, analyze, and make informed decisions to remain competitive and deliver optimal value to their customers.
Comparison to Amadeus:
While Amadeus offers a wide range of travel tech solutions, MakCorps excels specifically in the hotel price API domain. What sets MakCorps apart is its commitment to making advanced hotel price APIs accessible to businesses of all sizes. Therefore, MakCorps stands out as a preferred alternative for companies seeking efficiency; as their hotel price comparison API is faster, more reliable, and more budget-friendly than Amadeus.
Here is a screenshot of the MakCorps Hotel Price API response: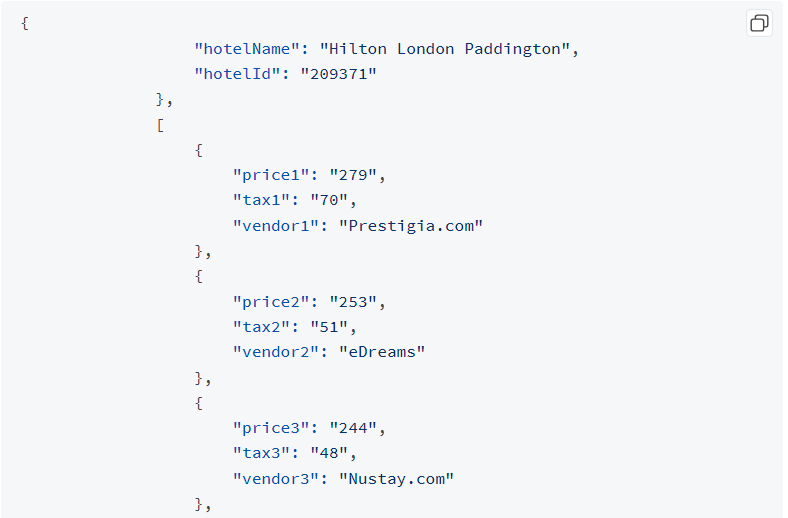 2. Sabre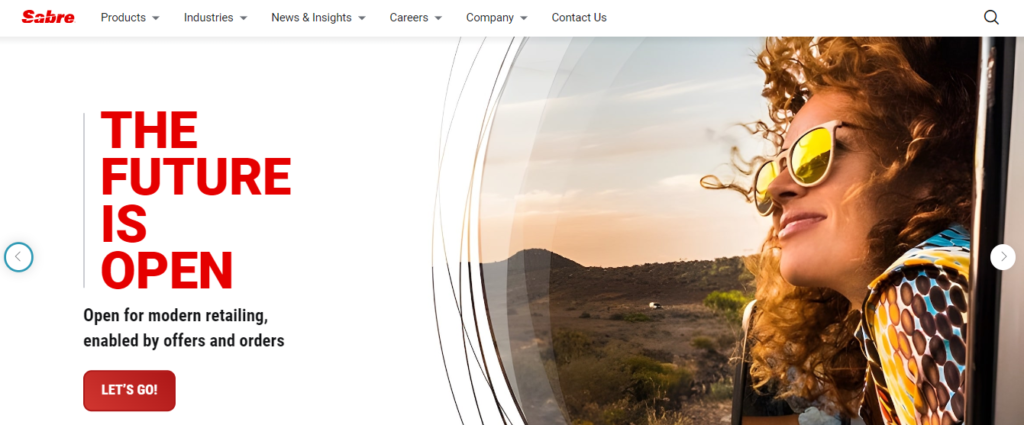 Offerings:
Sabre operates as one of the world's top travel technology companies. Its primary offerings include:
GDS (Global Distribution System): Like Amadeus, Sabre also offers a GDS, a tool that travel agencies use for real-time access to flight, hotel, car rental, and other travel services worldwide.
Sabre Red 360: It's a comprehensive travel agent workspace that allows agents to access Sabre's GDS data and more.
Travel Solutions: Sabre offers a range of technology solutions that includes data-driven business intelligence, mobile apps, and operational tools tailored for airlines, hotels, and other travel service providers.
Sabre APIs: Similarly to Amadeus developers can also integrate Sabre's functionalities into their own apps, websites, or platforms to facilitate travel search, booking, and management.
Comparison to Amadeus:
In the competitive travel tech arena, both Sabre and Amadeus hold their ground. While Amadeus enjoys a more pronounced presence in Europe on the other hand Sabre has a firmer grip on the North American scene. Some professionals lean towards Sabre's Red 360 as they get a more intuitive experience. If we compare them Cost-wise, Sabre can occasionally offer better deals in specific regions or services. However, In the innovation lane, Amadeus often leans into airline IT, while Sabre casts a wider net across general travel solutions. Moreover, when it comes to API, Sabre API potentially grants developers a slightly broader scope for customization.
3. Travelport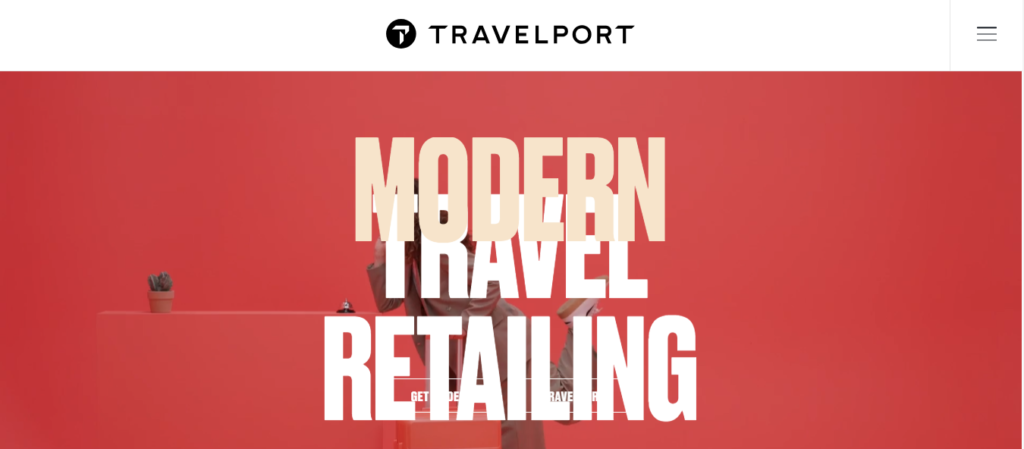 Travelport Offerings:
Travelport is a global technology company that provides distribution, technology, payment, mobile, and other solutions for the travel and tourism industry.

Here are the detailed Travelport key offerings include:
GDS (Global Distribution System): Travelport is one of the world's top three travel content aggregators and distributors, featuring real-time access to flight, hotel, car rental, and other travel content from providers worldwide.
Travelport Universal API: Travelport provides an API solution that integrates all content – including low-cost carriers and ancillaries.
Mobile Solutions: They offer mobile applications and developer tools for both travel providers and travellers.
Payment Solutions: They also integrate payment processing solutions to streamline transactions.
Comparison to Amadeus:
While both Amadeus and Travelport offer GDS services, they have their unique features. Travelport, traditionally, has been known for its flexibility and user-friendly interface. Their Universal API simplifies access to a wide range of content and makes integration smoother. In terms of pricing, both companies are competitive, but specifics can vary based on contracts and specific needs. Speed and reliability are comparable, but some users prefer Travelport for its tailored solutions. Ultimately, the choice between Amadeus and Travelport often boils down to user preference and specific business requirements.
4. Travex Technologies
Offerings:
Based out of Bengaluru, Travex Technologies stands as a seasoned player in travel tech, boasting over a decade in the industry and collaborating with 200+ global businesses. Travex aims to uplift travel agents, tour operators, and various other travel industry stalwarts. They specialize in a suite of solutions – from airline reservations and hotel bookings to IATA software and comprehensive travel management systems. They're not just about out-of-the-box solutions but also provide custom website development tailored to specific needs. Plus, they also provide several travel APIs, such as flight, hotels, car, sightseeing api, transfer and cruise api, which helps integrate prowess into existing systems is a breeze.
Comparison to Amadeus
While Amadeus has its strengths and global recognition, Travex Technologies brings a more personalized touch to travel tech. They offer a similar range of comprehensive solutions like Amadeus but with the added advantage of customizable website development that's tailor-made for specific business needs. Travex has headquarters in Bangalore India which is known as a global IT hub which allows Travex to offer competitive pricing and quicker adaptations to emerging tech trends. Their online booking engine, central travel management system, and seamless API integrations demonstrate their commitment to efficiency, profitability, and enhanced customer service. For travel agents eyeing a blend of tradition and innovation, Travex might be the way forward.
5. Pranas Technologies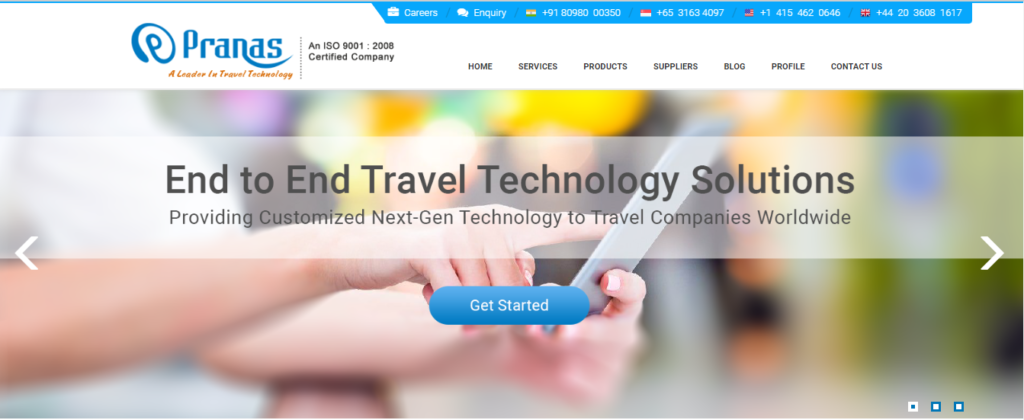 Offerings:
Travel Portal Development: Pranas offers End-to-end solutions from design to deployment.
GDS Integration: Offers a GDS integration that is compatible with major systems like Amadeus, Sabre, and Travelport.
XML/API Integration: It also allows businesses to sync and automate their travel processes with Pranas' platform.
Travel Software Development: Custom software solutions tailored for managing bookings, inventory, and payments for all business sizes.
Compare to Amadeus:
While Amadeus dominates the travel tech market with its expansive solutions, Pranas Technologies offers a fresh, tailored approach. It emphasizes on bespoke services closely with individual business needs at an affordable rate. Unlike the broader, one-size-fits-all offerings of Amadeus, Pranas melds GDS integration, portal development, and custom software into a cohesive package which makes it a versatile choice. Especially for businesses eyeing scalability with cost-effectiveness, Pranas Technologies stands out as a robust and dynamic alternative in the travel technology landscape.

Conclusion:
Exploring alternatives is the bedrock of innovation in the travel tech industry. While Amadeus offers an extensive range of services, the changing landscape underscores the need for adaptability and specialization. As highlighted, several competitors and alternatives provide unique advantages, from niche services like MakCorps to comprehensive solutions like Sabre and Travelport. Whether you're a developer seeking more flexibility, a business aiming for cost-effectiveness, or an innovator chasing the next big thing in travel tech, there's a platform just right for you. Step out of the conventional and embark on a journey with these impressive Amadeus alternatives.